3 BHK or 2 BHK 3 BHK Vs. 2 BHK – Which is The Best Choice For Your Family?
Buying a home is one of your life's toughest and most memorable decisions. Unlike clothes or any other accessory, deciding to buy a home is not an easy task. What type of flat should you buy? Where should you buy the flat? Should it be a 2 BHK or a 3 BHK?
Numerous such questions will linger in your mind before you finalise your dream home. Making the right choice is important. An apartment is mostly a one-time financial investment. So, if you're buying it, get it right on the first instance. Choosing between 3 BHK and 2BHK apartments is the most debated topic among first-time buyers. Because both apartments are functional, there are other deciding factors as well. Are you looking for a 2BHK or 3BHK apartment? Then this piece of blog can surely enlighten you. Let us help you decide on the right apartment selection.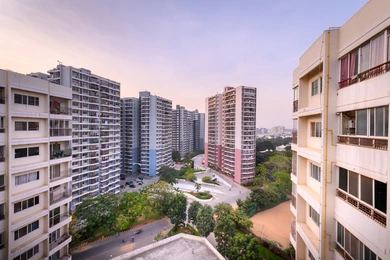 What are the Deciding Factors for 2 BHK or 3 BHK Apartment Purchases?
What is your Family Size?
If you have decided to choose a 2BHK flat then certainly you will only be able to accommodate up to 5 people in the same. If you have a family of 6 to 8 people, a 3BHK apartment is necessary. Unless you are ready to compromise with the space issues, the size of the apartment depends entirely on the number of people present in your family. Sometimes people with a nuclear family of only three members also consider buying a 3 BHK flat Airport Kolkata. This is a personal choice keeping future circumstances in mind.
How Much Budget Do you have?
Budget plays an important role in helping you choose between 3 BHK and 2BHK apartments. Since the square feet of a 3BHK Apartment is more than a 2BHK, the cost of the flats will be higher. Again, depending on the location, you might be lucky enough to get a 3 BHK at a lower rate than a 2 BHK. Considering the location and the budget, you can decide on the size of the flat.
Do you Want to Resale the Property?
For regular property buyers who have the motive of reselling the property,  a 2BHK is a feasible choice. Investment is low, and reselling values are moderate, which will fetch you profit. However, if you plan to stay in the apartment for a long time, then a 3 BHK is the feasible choice. It is a one-time investment for your dream house.
How will you Arrange Funds for the Property? 
Most property buyers take loans from Financial Institutions to purchase flats. It is only advisable to take a loan within your payment capacity. Depending on the amount of loan that can be sanctioned at your end, you can decide on the size of the apartment. For luxurious 3 BHK or 2 BHK apartments, approach Bhawani Group. We are coming up with 46 air conditioned luxury apartments both 3 BHK and 2 BHK that has been masterfully designed for luxurious living. You can check our ongoing projects at Bhawani Twin Towers, Bhawani Courtyard, Bhawani Mansion and Bhawani Bandhan. For 2 BHK flats you can check the apartments at Bhawani Bandhan and for 3 BHK flats Bhawani Inara is also a great option.
Check our website for luxurious flats near you. For quotes, call us.